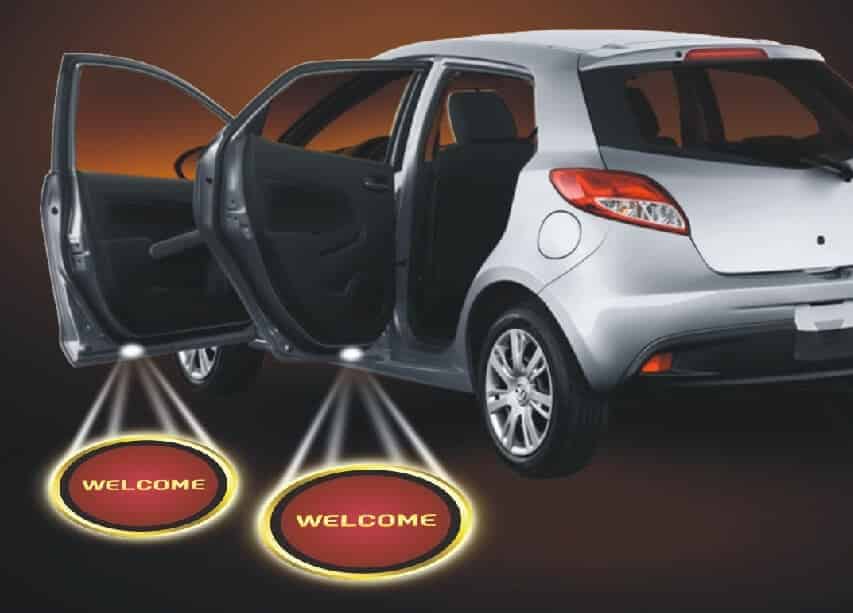 Genome Welcome Door Lights, 5th Generation car LED projection assist lights for automobiles! This unique & innovative product takes Car Styling to the next level, taking advantage of complex Optical Lens arrangement and the versatility of LED applications.
The Welcome Door Light is fitted at the base of car door panel to project high quality Customized / Welcome Artwork impression to the ground, every time the door is opened. The product adds to the style quotient of the car, gives a stronger feeling of ownership of the car, acts as welcome step for passengers and is a perfect reason to make your car stand out in a parking area!
Unique Selling Points of Genome Welcome Door Lights:
High Quality Lens with original CREE LED Power Source, producing superior quality & crisp output images
Ultra Compact dimensions to suit maximum cars in Indian roads
Auto Switch-Off after 5mins if doors continue to remain open. This prevents the device from burn-out due to high temperature arising out of continuous light emission
Low Frequency emission to prevent interference with other electronic gadgets in the vehicle
Product is Patent Protected (Patent No: 201230085703.0), having original design and Ergonomics
Always insist on Genome warranty card at the time of purchase
INNOVATIVE
We at Aambaji, keep updating our product portfolio with innovative products keeping the consumer requirements in mind.

QUALITY PRODUCT
All the products we offer meet high quality standards and are manufactured using state of the art technology.

AFTER SALES SUPPORT
Our products are backed with an efficient after sales support team, hence ensuring value for money.

AFFORDABILITY
We have a wide range of products to choose from , fitting every budget and requirement.