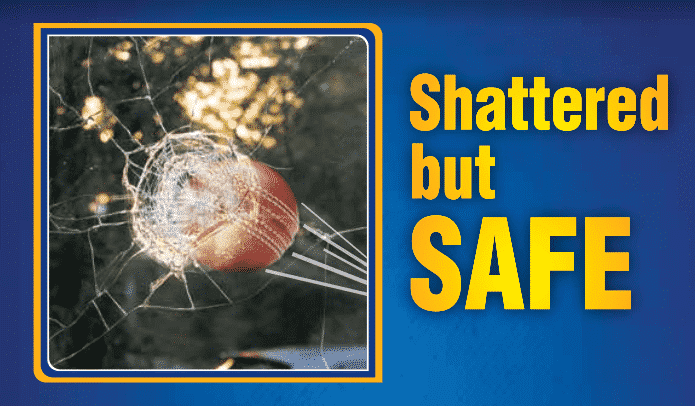 These films are optically clear, transparent, high impact resistant polyester films, which once installed on glass,gives additional strength, reduces glare & prevents glass from splintering on impact.
Typical thickness are 4 Mil & 7 Mil & in combination of Suncontrol Film
Safety Films are generally applied at high security zones like Embassies, Banks, Government Buildings, Malls, Airports, Hotels and Hospitals.
We also offer combination of the security benefits of CLEAR Safety Film with the heat and UV control properties of solar control films. The result has been the creation of a product that offers three great consumer benefits :
Safety Protection
Solar Heat Control
UV Radiation Protection
Violent acts, natural disasters, vandalism or accidents can shatter your building's windows and flying glass can be responsible for most of the damage, injuries and deaths. Much of these destruction can be controlled and prevented by Garware Suncontrol safety & security films.
Bomb Blasts / Terrorism / Civil Unrest
In a bomb blast, when your building envelope is compromised, much of the damage is done by flying glass. Garware Suncontrol Safety film helps to minimise the impact.
Garware Safety Film is a powerful deterrent to smash-and–grab thieves as well. It forms a strong but virtually invisible shield that holds broken glass in place delaying and deterring perpetrators whose goal is quick entry through shattered windows.
Safety Films are very ignition resistant (when installed on glass) and exhibit no flame spread, as in flames will not expand across the film. These laminates are extremely hard to ignite and are self-extinguishing when removed from direct flame.
Ensure Brilliant Optical Clarity
Safety Film comes with options of different VLTs. Clear window film forms an invisibile shield. It doesn't compromise on the light factor and ensures clear visibility.
Solar Safety Films can deflect heat incident on the glass thereby reducing the load of the Air condition, which results in less energy consumption.
UV / IR Radiation Protection
Solar Safety Film deflects UV and IR rays incident on the glass thus protecting from harmful diseases like skin cancer and sun glare.
INNOVATIVE
We at Aambaji, continue to update our product portfolio with innovative products to meet the consumer requirements.

QUALITY PRODUCT
All the products we offer meet high quality standards and are manufactured using state of the art technology.

AFTER SALES SUPPORT
Our products are backed with an efficient after sales support team, hence ensuring value for money.

AFFORDABILITY
We offer a wide range of products to choose from, which suit every budget and requirement..